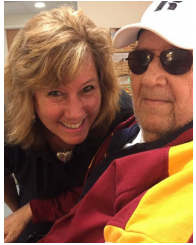 Hello friends,
It takes a team to achieve awards like these and it's so obvious (by the long list below of friends on this journey with me) that I am not alone on this wonderful musical journey.   I wish to thank  my many  co-writers  (who turned into great friends) and colleagues for allowing me to take the ride with them.
I also want to thank my Dad (who is in heaven).  He believed in me completely and always wanted me to know that "I am enough".  My Mom and I dad both allowed me to reach for my dreams.
Love, Donna
2022 Silver Winner:  43rd Annual Telly Awards: Trailer - Hashtag Blessed, the movie: Love Me Some Jolly by Donna Bukevicz, Corey Lee Barker.  Music Supervisor: Donna Britton Bukevicz. 
 2022  Winner:  The  Scotland International Festival of Cinema - Vanguard Award for  Cinematic Achievement in Original Music Score (Featuring songs by Donna Estelle Bukevicz (and/or co-written with) Peter Keys of Lynyrd Skynyrd, Sir Earl Toon (of Kool & the Gang), Bryan Steele, Dalea Faulkner, Avery Lynn Rodgers, Corey Lee Barker, Justine Blazer, Donna DeSopo, Samir Fahd Moussa, William Dominic Dilugi, Eddie Kilgallon, Thomas Paden, Brian Hoff, Ben Bishop, Jack Bond, Ava Paige, David Norris, Randy Scott Barnett, Hailey Dawn,  Ross Orenstein, Dave Tough, Nicolas Laget, Samir Moussa, Joel Christopher Payne, Patty Reese, Keith Williams, Joan Westin, David Bruner, Molly Adele Brown, Deidre Thornell, Alyssa Jordan, Jordan Smith Reynolds, William Man Hae Park, Sloan Wainwright, Susan Riley, Daniel Dahmod, Valerie Ahneman, John Sweeney, Tony Noyes, David Minasian, Nate Alan Cornell, Tiffany Alvord, Matthew Shell and Gabe Burdulis, 
2022  Finalist:  Munich Music Video Awards, Song with Sir Earl Toon (of Kool & The Gang) and Dalea Faulkner, produced by Nicolas Laget of Sweet Spot Studio 
2022  Finalist:  International Sound Awards Best Music Video w/Sir Earl Toon (of Kool & The Gang) and Dalea Faulkner, produced by Nicolas Laget of Sweet Spot Studio 
2022   Semi-Finalist:  International Music Video Awards - "This is All I want for Christmas" with Sir Earl Toon (of Kool & The Gang) and Dalea Faulkner, produced by Nicolas Laget of Sweet Spot Studio 
2022 Semi-Finalist:   Rotterdam Independent Film Festival "Best Music Video" - "This is All I want for Christmas" with Sir Earl Toon (of Kool & The Gang) and Dalea Faulkner, produced by Nicolas Laget of Sweet Spot Studio 
2022 Wammie Awards - Best Gospel/Inspirational:  Nominee "Deep in the Heart of the Holiday" written with Patty Reese 
2021 HMMA Best Holiday Song Nominee (Donna Estelle Bukevicz with co-writer Peter Keys of Lynyrd Skynyrd) for Hashtag Blessed movie (11 wins and 1 nomination) for Best Feature Film, produced by Peter Keys 
2021 HMMA Best Holiday Song Nominee - Santa Lives in You (co-writers Donna DeSopo & Joel Christopher Payne, produced by Nate Cornell) 
2020 92nd Academy Award Oscar Contending Songwriter (two songs listed among 75 songs up for consideration) - "This is your day" with Lyman Ellerman and Bon Appetite' with Ross Orenstein featured in Turnover, the movie 
2019   Winner:  Show Low Film Festival "Best Song" Award w/Lyman Ellerman "She's on the Prowl" featured in Cat Dexx: Inkosi 
2016  Winner:  Los Angeles Independent Film Festival Awards - "Best Original Song" -  featured in Halloween Party movie  (Vocalist & Music Supervisor)
2014:   Laughlin International Film Festival - Best Soundtrack for Halloween Party (film)  - Multiple Songs as Songwriter, Artist & Music Supervisor
2013 Oscar Contending Vocalist (#17 on the Awards Circuit list against Adele's Skyfall) for Halloween Party (film)